FAQ
Product related questions
I'm fit and healthy, why would I need to supplement my diet with tableted powder produce?
A survey completed in the mid-1980s by the USDA, that evaluated the food intake of 21,500 people, found that none were obtaining the RDA for all of the common nutrients measured.
This is particularly alarming, because the RDA standards are set at levels to just be enough to avoid vitamin deficiency diseases such as scurvy, rickets and beriberi. This is really a minimum daily requirement, with optimal daily allowances being many times higher.
I take a multi-vitamin, why would I need to supplement my diet with tableted powder produce?
Our tableted powder produce are whole foods, with nothing added or taken away, or isolated. The vitamins and minerals contained within them are as they are found in nature.
This is important, because synthetic vitamins and minerals, or vitamins and minerals isolated from foods or ingredients, are not processed by the body in the same way. This can at best mean that they pass through the body without having any effect, or at worse be toxic to the body.
Dr. Brian Clement describes this in more detail below, in part of the prologue of his book "The Vitamin Myth Exposed":

Mainstream marketing of vitamins and minerals has created the myth that synthetic vitamins and inorganic minerals may be isolated individually and from one another, and that we can derive total natural benefit from taking these fractionated chemical creations. Nothing could be further from the truth! Real, natural vitamins, minerals and enzymes work closely together as co-factors for each other's efficacy. If one part is missing, or is fractionated, or is in the incorrect form or the incorrect amount, entire chains of metabolic processes cannot and will not proceed normally. Only nature can provide us with naturally-occurring vitamins as found in real, wholesome organic foods.
The overwhelming majority of vitamin products sold in grocery stores, drug stores or mass-marketing retailers contain synthetic ingredients, and are unfortunately accompanied by inherent deficiencies and unpleasant ramifications.
Another primary difference between real full-spectrum whole-food vitamins and synthetic vitamins is that real vitamins contain the essential trace minerals necessary for the vitamins' synergistic operation. Synthetic vitamins contain no trace minerals and must utilize the body's own mineral reserves. Ingesting real vitamins does not require the body to deplete its own reserves of nutrients to replace any nutrients missing from the false vitamins.
Mega doses of synthetic vitamins can have very serious toxic effects. Naturally-occurring whole-food vitamins are not toxic since the vitamin is complexed in its natural whole integral working form, and requires nothing from the body to "build" a vitamin.
When synthetic, or incomplete vitamins are introduced into the body, the body attempts to "build" a complete vitamin complex by adding the missing factors that it knows should be there, specifically minerals and other vitamin co-factors. This "building" process depletes the body's nutritional reserves, creating an overall deficiency. The body has a natural intelligence that is always directing its efforts toward wholeness. When you ingest a "partial" or isolated vitamin, the body assumes you meant to ingest a whole vitamin, and works hard to make up for an action that it views as a mistake. Of course, the body has limitations. When it is saturated or overwhelmed with large amounts of synthetic vitamins or does not possess the cofactors necessary for creating fully-complexed supplements, it cannot convert the incomplete synthetic vitamins.
It will then work to eliminate the synthetic vitamins through the kidneys, skin and the other elimination organs. This is the reason why the majority of all synthetic vitamins are quickly eliminated by the body and not utilized.
We require our bodies to perform a surprising amount of work when we ingest synthetic supplements. Not only must we effort to create a usable supplement by drawing on our own reserves, we must also labor to eliminate the substances that cannot be utilized. This process results in an overall negative health effect while minimizing any gains that could have been achieved by the supplement were it in a usable form to begin with. This is why consuming whole foods and whole-food supplements is critical.
Dr. Brian Clement
Will you expand your range in the future?
Yes, we are excitedly working on several very special lines to add to our range. Make sure you are signed up to our newsletter to be the first to hear about it!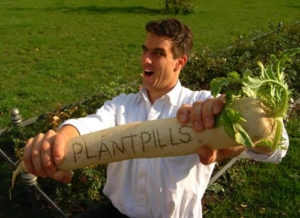 Can you take too much vitamins?
Synthetic and isolated vitamins: yes.
Vitamins contained in whole foods: no.
News stories have been published that have been negative towards vitamin supplementation. The studies involved use synthetic vitamins, which should not be confused with natural vitamins found in our whole food powdered tablet produce.
The Organic Consumers Association (OCA) describe this in more detail below:

Are certain synthetic ingredients worse than others?
Yes. Some vitamins are water soluble, so the flush out of the body quite easily. Other vitamins are fat soluble. The fat-soluble vitamins include vitamins A, D, E and K. Because they are soluble in fat (lipids), these vitamins tend to build-up in the body's fat tissues, fat deposits, and liver. This storage capability makes the fat-soluble vitamins potentially toxic when consuming high-dose synthetic versions of these vitamins, rather than food-based vitamins that the body knows how to metabolize. Care should be exercised when taking the fat-soluble vitamins, and it is recommended that you avoid the synthetic forms of these vitamins whenever possible.
Also many people are allergic to the chemicals used as a base for synthetic vitamins. Some are toxic, including nicotine, coal tars and alloxal. Avoid toxic ingredients such as magnesium stearate or stearic acid (toxic flowing agents), silicon dioxide (common sand used as an expensive filler that makes the bottle weigh more with the hope that the uneducated consumer will equate weight with higher quality), natural flavors (a common term for toxic MSG used to disguise bland tastes), methylcellulose, carnauba wax, titanium dioxide, and many more. If you are not sure of what you are taking, do not take it! These toxic chemical agents can create significant health problems when consumed over time.

I have an illness or disease, will your products help?
No. The information and products on this website are not intended to diagnose, treat, cure or prevent illness or disease, and are not intended to be a substitute for informed medical advice or care. You should consult with a doctor, physician, or other healthcare professional before starting any diet, exercise or supplementation program, before taking or discontinuing any medication, or if you have or suspect you might have a health problem. The statements on this website have not been evaluated or authorized by the United States Food and Drug Administration, or The American Medical Association, or any other medical or healthcare body.
Order related questions
How much does delivery cost?
Delivery within mainland UK is free.
To calculate delivery to offshore UK, USA, Europe and the rest of the world, just select your country at checkout.
Why hasn't my order arrived?
Please allow three working days before contacting us regarding undelivered orders within UK, and two weeks before contacting us for orders sent to USA, Europe and the rest of the world.
Although the delivery aim is significantly less than these times, there can occasionally be misroutes, road closures, bad weather conditions or strike action that can affect delivery times.
Can I order over the phone?
Unfortunately not; we only accept payment via the website.
Do you provide VAT invoices?
Yes, invoices indicate VAT where applicable.
What is your returns policy?
We can offer a full refund for unopened packets returned to us within 14 days of purchase. So if you change your mind within 14 days of purchase, please contact us for details of which postal/courier service to use, and where to send the package.
With regret, we can not offer a refund for opened packets, and can not offer a refund for items purchased more than 14 days ago.
What is your GDPR/privacy policy?
We are committed to keeping your details safe and secure. No customer details are stored online. Your details are used for the purpose of processing and delivering your order. We will NOT send you any further correspondence unless you specifically ask for it, or manually sign up to our newsletter.
None of your personal details will be shared with or used by third parties. We comply with the data protection act.
This data is encrypted and kept offline, and we have to store it for 6 years to comply with UK law. The only data stored by us are the details you provide us in order to process your order. All of this data is present on the invoice that we provide to you with the order, and you have the right to request a copy of this for up to 6 years from the order date. If you would like to make a complaint, please contact us.
Business related questions
I am interested in bulk purchase/stocking and selling your products, do you offer bulk discount?
We offer sports teams, gyms, personal trainers and top level athletes the ability to purchase our produce in bulk at attractive prices.
Simply add the product to your shopping basket, and then click on the "Size" drop down list in the shopping basket page to select the bulk size of 10 kilograms.
10 kilograms is 40x packets of 250 grams each. If paying via Bank Transfer, the price is equivalent to £24.75 per 500g of spirulina, or £25.25 per 500g of chlorella.
Can I come and visit you?
Unfortunately not; we don't currently have any retail presence, we just distribute online.
Do you offer an affiliate program?
We do not offer an affiliate program, however, we do have a presence on both eBay and Etsy, who offer affiliate-type programs.
Do you offer sponsorship?
We are not currently looking to provide sponsorship, but if you are a professional athlete or sportsperson and interested in our produce, please contact us to register your interest in case this changes in the future.